Please wait a moment while the images load.
| | |
| --- | --- |
| To request a high resolution file of any of the images below or one in this week's paper, please call us at (707) 942-5181. In return, a small donation to the Tribune Scholarship Fund would be greatly appreciated! Just click on the "Donate" button to donate online via PayPal or drop off your contribution at the Tribune office. Thank you! | |
<![endif]-->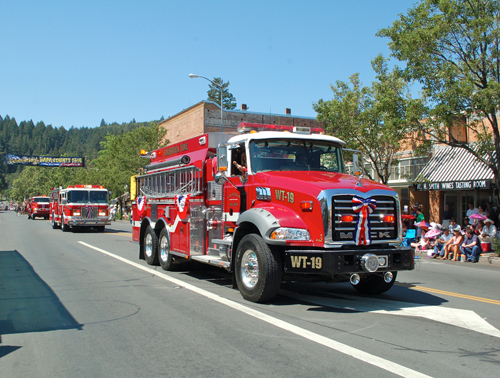 4th of July 2013

Calistoga's 4th of July 2013


Calistoga Engine 19

Calistoga's 4th of July parade is always led by the fine Calistoga Fire Department, with Engine 19's siren announcing the start of the parade down Linncoln Avenue in front of thousands of spectators.


CHS Cheerleaders

The Calistoga High School cheerleaders participated in the annual July 4th Silverado Parade.


Cricket, anyone?

Napa Valley Cricket Club members educate Americans on the very British game of cricket.


Fiesta Mexicana

Part of Calistoga's 4th of July 2013 events include the popular Fiesta Mexicana where charros demonstrate horsemanship, singing, and rodeo skills.


Flag Bearer

Color Guards on horseback are a big part of the Silverado Parade.


Horse Crowd

When was the last time you got to be this close to a real horse in a real parade? All a prt of the fun of the Silverado Parade.


Mike Thompson

Calistoga's 4th of July 2013 draws everyone to town, including U.S. Rep. Mike Thompson (D-St. Helena).


Night Lights

Always a favorite draw for families, carnival rides brighten the night at the county fair.


Proud Horsemen

Gorgeous horses and lots of pride in the shared cultures of Mexico and the USA were on display.


Spinning Wheel

A wonderful shot of a the hanging glider ride at night at the Napa County Fair.


The Kiss

Remembering the heartache and adventure of going off to war in the Calistoga's 4th of July 2013 parade.


Wagons Ho!

Mountain Home Ranch celebrated its 100th anniversary as part of Calistoga's 4th of July 2013


We are all one

Calistoga's 4th of July 2013 includes the rich culture of Mexico and our neighbors in South America.