Please wait a moment while the images load.
| | |
| --- | --- |
| To request a high resolution file of any of the images below or one in this week's paper, please call us at (707) 942-5181. In return, a small donation to the Tribune Scholarship Fund would be greatly appreciated! Just click on the "Donate" button to donate online via PayPal or drop off your contribution at the Tribune office. Thank you! | |
Award Winners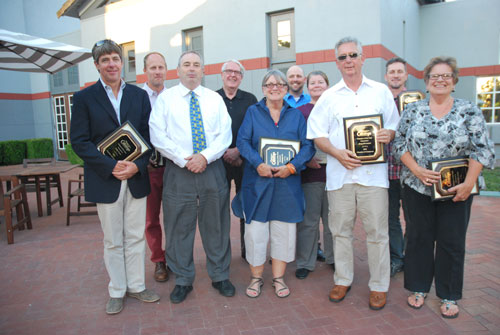 Community Awards recipients (left to right) Kelly Foster and Thomas Rivers Brown (Citizens of the Year), Jay Templeton, Boys & Girls Club of St. Helena and Calistoga (Non-Profit of the Year), Bob Fiddaman (Gary Barrett Lifetime Achievement), Rosie Dunsford, Calistoga Inn (Business of the Year), Greg Bouillerce (BGC), Heather Baker (BGC), Clint Ferrier (BGC), Doug and Barb Herrmann (front right, Volunteers of the Year).
June 23, 2014
| by: Pat Hampton
| Keywords: Community Awards Citizen of the Year Chamber Clos Pegase